Importance Of UX In Digital Marketing
Posted On May 18, 2021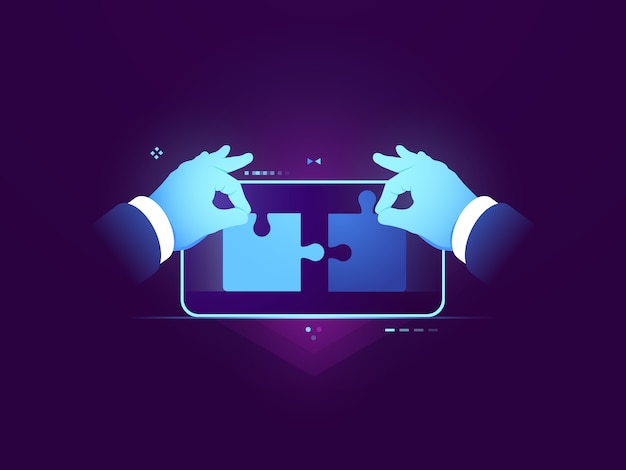 What is digital marketing ? What is user experience? How user experience has become important for digital marketers?
In this article, we will combine both the niches and see the top 5 ways why UX is important in digital marketing.
 What is Digital Marketing?
Before understanding in detail, let's understand what is marketing in general?

It basically means, creating an awareness of products/services in the market telling why the public requires it and the benefits they get from it. 

Similarly, digital marketing is nothing but doing marketing over digital platforms/media, eg: social media marketing, search engine marketing, email marketing, etc.
What is User Experience?
As the word suggests, it simply means, how a user

feels

while using your product/service or while interacting with your business in any form, be it digitally or physically.

It's all about creating a seamless and easy experience for your users.

Take an example of 2 cups, let's say one has and the other don't have a handle. When hot tea is poured into both of them, a person using the cup without the handle might feel difficult holding it, whereas a person with the other cup might not feel the same, instead would enjoy the garma garam tea!

So this is UX. How your user feels easy while using a product.
Difference between UX and Digital Marketing
UX design revolves around the customer and their feelings. Its about giving the customer the best possible experience to make them want to come back. It requires design knowledge.
While Digital Marketing revolves around traffic, lead generation, revenue. It requires business oriented , analytical skill sets.
Now that we have some understanding of what is digital marketing and user experience, let now see 5 reasons why UX should be a priority for digital marketers.
5 Reasons why UX should be a priority for the digital marketers:
Customer Satisfaction


As talked in the previous example, UX is all about how your customer feels while using your product/service. If they have come to your website/application and without facing any hassle if they get what they are looking for and enjoy the experience, they might visit again or suggest others to use your service/product. This results in a higher customer satisfaction rate.

Improves SEO


Now that search engines have started keeping user experience as one of the major factors affecting the SEO ranking, it has become really important how you design your web pages. Not just the visuals, but, the load time and time for the first interaction the user makes with the website also plays a vital role.

Builds conversions


What do you understand by conversion – converting prospects into your customer right? Yes so suppose your target audience lands on your website to make a purchase, how can you make their transaction seamless? One solution can be instead of putting multiple CTAs, we can have a single CTA button that can drive them to the checkout page and perform the purchase. Now if you make this entire process a cumbersome task for them the chances are that they might leave your site.

Effective Landing Page
When it comes to designing a landing page for online campaigns, UX comes under a great importance as it is said, a well designed website may have higher conversion rate than a poorly designed one. For example, you are running a campaign for a product/service and targeting people in Delhi. So if you add up texts in your landing page like, Best website design service in Delhi or let's say Best digital marketing company in Delhi might give you a higher rate of conversion rather than not putting anything like that. Similarly in the last example I said, putting a single CTA rather than multiple CTAs which can divert the users from taking the right action in the landing page.
Optimized for mobile users
Google is now giving importance to mobile friendly websites. This means the chances of websites that are optimized for mobile will rank higher than the ones which are not. This is because the mobile users find the information they need immediately and more easily, so if your website is having a poor UX for mobile users, you may loose more than half of your customers.
Now that we know how these two niches compliment each other. The new funda in digital marketing is to satisfy your customers and for that you need to design your products and services keeping User Experience in mind. The aim of digital marketing can only be achieved when users can relate to the product and services. A great digital marketing strategies might help your product or services reach to your users, but a great UX helps in conversions. Thus this is what is now called as UX Digital Marketing.
But now the question is Should Digital Marketers learn UX Design ? Let's answer this.
Should Digital Marketers learn UX Design?
The answer to this can be YES. Firstly, because there is no harm in having two skills, infact it is just like a icing in a cake for you. Secondly, to create an agile ecosystem both the niches need to join together.
Having two skills which compliment each other can give you a better payscale, better scope, and the ability to increase conversion for the company.
So now that we know how much importance does UX holds in digital marketing. UX plays as a digital pillars in digital marketing. It can turn your prospects into your customers. A good UX can give a seamless experience to your customers which in turn can draw them to visit your site or buy your products or services again and again.
If you want your user to say "what an amazing experience it was" then invest in a good UX Design because as it's truly said
"Design creates culture.
Culture shapes values.
Values determine the future."  –   Robert L.Peters
If you like this article and found it helpful, let me know in the comment section, and also please check out my upcoming book  "The Secrets Of The Good Experience Design"
To reach out to us with your requirements on UX Design, Contact Here